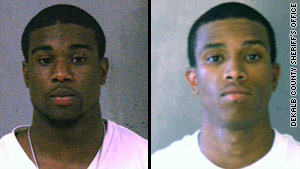 ATLANTA | The pastor of a prominent megachurch accused by three young men of coercing them into sex took trips with other male proteges in his youth ministry as part of a mentoring effort, a lawyer for the religious leader said Thursday.
Bishop Eddie Long, who has denied the sex allegations, plans his first public response Sunday during services at his 25,000-member church, lawyer Craig Gillen said on the Tom Joyner Morning Show after Long canceled an interview with the nationally syndicated radio program.
In lawsuits filed this week, three men who were members of the New Birth Missionary Baptist Church claimed Long pushed them into sexual relations when they were 17 or 18 years old with gifts including cars, cash and travel. Long, who opposes same-sex marriage, built up the sprawling church in suburban Lithonia that counts politicians, celebrities and the county sheriff among its members and hosted four U.S. presidents during the 2006 funeral of Rev. Martin Luther King Jr.'s widow, Coretta Scott King.
One of the claims in the lawsuits is that Long had sexual contact with the young men, who were enrolled in New Birth's ministry for teen boys, during trips he took them on in the U.S. and abroad. Gillen said the travel was part of a mentoring program that other young men also participated in.
"The mentoring process involving travel is not exclusive to the three plaintiffs making these allegations," Gillen said.
Gillen also read a statement from Long in which the pastor, a married father of four, said he's anxious to respond to the allegations but that his lawyer has advised him not to yet.
"Let me be clear. The charges against me and New Birth are false," Long's statement said.
Gillen also said the three making the allegations were motivated by money, adding that one of them is accused of breaking into Long's office.