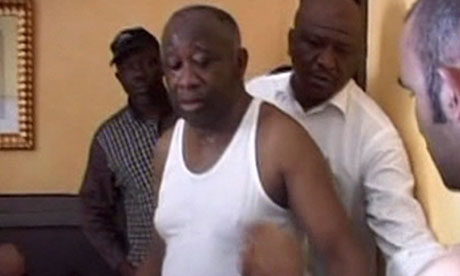 World leaders have welcomed the sudden arrest of
Ivory Coast
's defiant former leader
Laurent Gbagbo
, but there were warnings that the conflict may not yet be over.
Having refused to stand down for four months after losing the presidential election, even as the country descended into civil war, Gbagbo was finally detained at his personal residence by forces loyal to the country's elected president, Alassane Ouattara. French troops and
United Nations
peacekeepers, who had earlier struck Gbagbo's home in the main city, Abidjan, from the air, provided crucial support.
"We attacked and forced in a part of the bunker," Issard Soumahro, a pro-Ouattara fighter at the scene, told Associated Press. "He was there with his wife and his son. He wasn't hurt, but he was tired and his cheek was swollen from where a soldier had slapped him."
source: