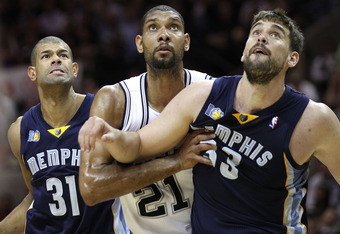 "How do you tell when the San Antonio Spurs are dead? Well, that's a trick question: the Spurs never die. They just lay down sometimes. When the grave is prepared and the last rites are being given, the Spurs sit up, grab a ball and beat the snot out of another team. They never die.
But in the wake of San Antonio's submission to the Memphis Grizzlies on Friday -- Memphis went on a tear with four minutes left, and won 99-91 to take the series 4-2 -- we're left wondering if maybe, just maybe, the Spurs actually
are
dead this time. Sure, we've been fooled. In 2006. In 2008. In 2009. In 2010. We've been made fools reading eulogies for Tim Duncan's dynasty, only to watch him sparkle from the deathbed (insomuch as Tim Duncan can sparkle).
But is this different? Are the Spurs actually dead?
Tim Duncan is slowing down at an alarming rate.
Big Fundamental is the rock of this team; while Tony Parker and Manu Ginobili have taken turns as the team's MVP over the last seven years, Duncan has been completely dependable, and underrated (insomuch as a former MVP can be underrated). There's a reason this is the Duncan dynasty --
he's
the engine. Without him, this is just a well-coached team with awesome guards. Duncan makes them The Spurs."
Full Article
- via SBNation