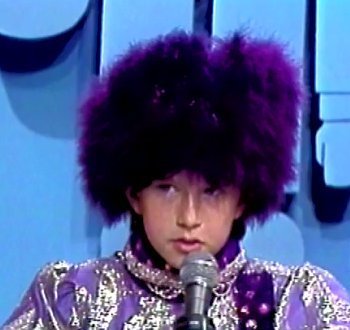 Pictures can say a thousand words lol....or not LOL
"Anderson Cooper was flustered and confused when a weird childhood picture of him randomly showed up onscreen during a news bulletin.
CNN's Isha Sesay was reading an item about Justin Bieber on Cooper's Monday show when, all of a sudden, a picture appeared on the screen showing a young Cooper with a strange, furry purple hat and holding a microphone.
Cooper was gobsmacked. "Wait a minute. Wait a minute. Wait a minute," he interrupted Sesay. "We just put a picture of me when I was like 9 years old on 'To Tell the Truth!'" Try as she might, Sesay couldn't get Cooper off topic.
The show's producers told Cooper that a "technical glitch" had occurred. He said he didn't believe that "for a second."
Ok...but WHAT, exactly, was going on in that picture? "I was pretending to be Wally Naughtin, the world's youngest bear trainer, on 'To Tell the Truth,'" Cooper explained. "I got two votes. Nipsey Russell and Kitty Carlisle Hart." He said he was thinking about "people I'm going to fire
."" - via HuffingtonPost
Source
: