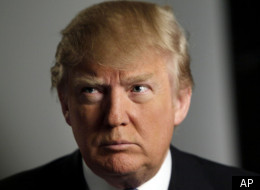 "President Obama and Seth Meyers weren't the only ones taking shots at Donald Trump Saturday night at the White House Correspondents Dinner.
The Donald was booed by people behind the press line upon his arrival at the Hilton Hotel where the A-list dinner was held, according to videos of the red carpet.
Trump, who was a guest of the Washington Post, waved off the hecklers seemingly unfazed, his wife Melania close by.
The real estate mogul has made headlines recently by flirting with a run for President and fanning flames of the so-called birther movement. Many observers believe that his outspoken questioning of the President's birthplace led the commander-in-chief to release his full form birth certificate last week.
Trump apparently assumed he wouldn't be turned into a punch line at the Correspondents Dinner, telling ABC News beforehand he doubted he would be the subject of many jokes.
"I wouldn't think [Obama] would address me [during his speech]," he predicted.
But as he stoically sat while most of the night's highlights were zingers at him, Trump was proven remarkably wrong – much to the delight of many attendees." Read More -via NY Daily News