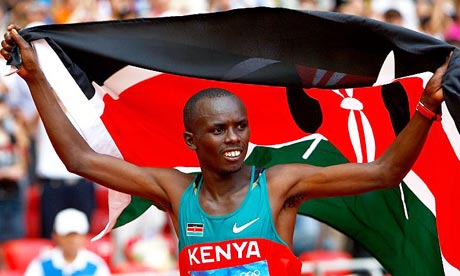 "Kenyan Olympic marathon champion Sammy Wanjiru died after a fall from a second-floor balcony during a domestic dispute involving his wife and another woman, officials said Monday.
One police official said the 24-year-old Wanjiru committed suicide, while another said he jumped to stop his wife from leaving the house after she discovered him with another woman. His agent, Federico Rosa, does not believe it was suicide.
At the 2008 Beijing Olympics, Wanjiru became the first Kenyan to win a gold medal in the marathon. At 21, he had the promise to dominate the distance for another decade.

"It is a huge tragedy," Jos Hermens, a long distance expert and manager of Ethiopian great Haile Gebrselassie, told The Associated Press. "He could have won two, three more Olympic Games. He was an incredible talent."

Wanjiru, who won five of his seven marathons and was the youngest runner to win four "major" marathons, died late Sunday at his home in the town of Nyahururu, in the Rift Valley, the cradle of Kenyan long-distance running.

"The fact of the matter is that Wanjiru committed suicide," national police spokesman Eric Kiraithe said.

Police Commissioner Mathew Iteere also said initial reports indicated Wanjiru killed himself, but a local official offered a different account.

"Wanjiru came home with another woman friend at around 11:30 p.m. and then when his wife came home and found them she inquired who the lady was," area police chief Jasper Ombati said. "They got into an argument. His wife locked them in the bedroom and ran off" -
read more
- via Boston.com