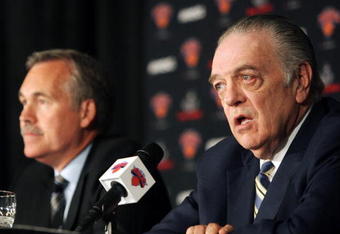 So what does this mean now?????
In a surprising twist, the Knicks announced late Friday morning that Donnie Walsh would be leaving his post as team president when his contract expires at the end of this month. The team characterized Walsh's exit as by mutual agreement between him and the team's principle owner, James L. Dolan.
Glen Grunwald, the team's senior vice president for basketball operations, will serve as interim general manager beginning July 1, the team said.
Walsh had been negotiating a new contact with the organization for the last few months and was seeking assurances of full autonomy in basketball decisions. He had never given any indication that he wanted to leave the team. In fact, he has repeatedly said he wanted to finish the job he started in 2008, when he began rebuilding the roster. Walsh's decision to step away would seem to indicate that he did not receive the promises of autonomy that he sought.
"Following a long series of discussions regarding his future role with the New York Knicks, Donnie Walsh and I have mutually agreed that he will be leaving his position as president, basketball operations of the Knicks, at the end of June," Dolan said in a statement released by the team. "Donnie will remain with the team as a consultant for the 2011-12 season. In a relatively short time with the Knicks, Donnie made a tremendous impact, which will be felt for many years to come. We thank Donnie for his leadership, hard work and many contributions to the revitalization of the team. read more - via NYTimes