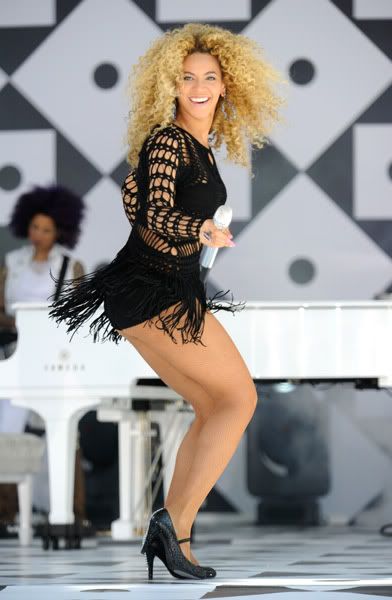 B runs the city despite what Jigga says LOL.... Also checkout Beyonce's surprise visit to a Harlem Boys and Girls Club below....
"Beyonce celebrated the start of the Fourth of July Weekend with a divalicious performance on 'Good Morning America' for the news program's weekly Summer Concert Series. We didn't think anyone could come close to Lady Gaga's show-stopping, Memorial Day Weekend performance, but Beyonce's performance was right up there with the Mother Monster's.
Bey took the stage at around 8:15 with her wild mane of curls that's she's been pumping lately and a lemon yellow, crocheted mini accessorized with statement earrings and rings. She was greeted by thousands of screams that caused her to take a pause before she started dancing her a– off to 'Run the World (Girls).' Who needs coffee when you've got a wake up cup of Beyonce and her percussive single to jar you from a sound sleep?
The stage was decked out in a black-and-white diamond pattern that looked like something out of 'Alice in Wonderland,' but even the busy backdrop couldn't compete with Beyonce or her laser-focus. Much like her Glastonbury performance and her record release show on London, the Queen B smiled ear-to-ear throughout her whole performance; performing is obviously her favorite thing in the world. She ended the song with a salute."
read more
- via PopCrush
source: